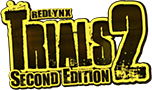 In more detail, Trials2 provides Trials-game fans even further developed physics model and core gameplay-features. Trials 2 two also takes advantage of RedLynx?s further developed RedLynx Theathre - game engine: Trials2 has ultra-high quality graphics mode, that uses deferred rendering to deliver impressive effects, including depth of field, ambient occlusion and per pixel realtime lighting and shadows. In addition to addictive single-player mode, Trials 2 allows players to compete with each other with global highscore lists, and allows replaying and viewing trials rides - in order to learn from the more experienced players.



Game features
4 game types (race, flip, wheelie, dynamic)
Race: Race against other players to compete levels as fast as possible.
Flip: Try to make as many backflips or frontflips with your bike to reach a top score.
Wheelie: Drive on your backwheel for longest distance possible.
Dynamic: Navigate through tracks with various dynamic obstacles and puzzles.
65 tracks to play:

7 Tutorial tracks
11 Easy difficulty tracks
8 Medium difficulty tracks
8 Hard difficulty tracks
3 Flip tracks
3 Wheelie tracks
4 Dynamic physics tracks
21 Free downloadable tracks

Global highscores

All time and weekly high score lists
Filtering by team and country

Online replays. Watch a replay of any high score on global high score list.
Ghost challenge. Play against the ghost of any other player in high score list.
Online player profiles with team, country and player statistics.
25 achievements to unlock.
3D ragdoll. When the player makes a fault he drops off the bike in realistically painful way.
Custom replay recording. Players can record their rides to a file that can be shared.
Ingame chat room
Gamepad support with force feedback (rumble) based on physics response
Several camera modes (multiple side view modes, 1st person, 3rd person, cinematic)
Multi-language support: English, Finnish, French, German, Italian, Polish, Russian, Slovak, Spanish, and Swedish
Perplexing, hilarious, and absolutely fearless voice–overs from truly bone-breaking Trials 2 riders: Brandon DiCamillo, Art Webb and Rake Yohn! These guys are famous not only from Jackass, Viva La Bam, movies and other shows, but they're also the founders of Gamecasa.net, a new network for expanding gaming culture to wider audiences. Better than anyone, they know what it takes to go over the limit, get hurt – and get right back up and try again!
Engine features
Next-generation graphics engine utilizing deferred rendering
Advanced per pixel lighting and material system
Realistic pixel perfect dynamic shadows from all light sources
High resolution textures designed for Full HD (1920x1080) resolution and beyond
Ultra wide three monitor mode up to 5040x1050 resolution with Matrox TripleHead2Go
High quality post process filters: Motion blur, depth of field and overexposure light bloom
Dynamic screen space ambient occlusion for ultra high end graphic cards
Volumetric soft particles
7.1 positional surround sound with doppler and reverb effects
Graphics mode optimized for low-end machines and laptops!